About the "Farmer's Daughters"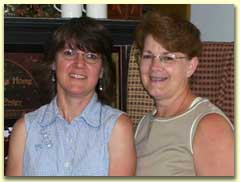 Yes, we really are farmer's daughters! We roamed the woods and fields of our farm in Charleston township along with our two sisters and two brothers. So, when the idea of a craft shop was conceived, our name The Farmer's Daughters, was the perfect fit.
What started out as a one-season, craft show adventure expanded into a permanent shop where we could sell primitive and traditional home accessories year round and our own handmade creations.
Five years later, when a worn and weary farmhouse (complete with chicken coop!) went on the market, we were able to move to our permanent home here on Route 6, just outside the bustling borough of Wellsboro.
"Debbie and Danelle invite you to come inside The Farmer's Daughters and explore every room and corner. You will find everything you need to make your home come alive with old-fashioned comfort and country charm."